DESIGNER SCARVES at FashionBash USA
Women's fine silk and wool scarves for sale online. Large selection of styles from luxury brands and fashion designers.
Select from brand and designer list at left to view all styles available.
FEATURED SCARF STYLES: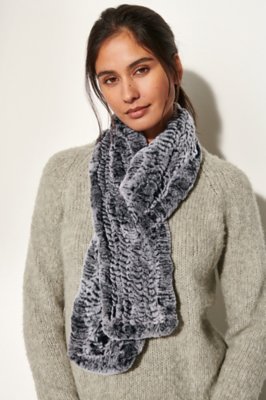 Diane Knitted Rex Rabbit Fur Scarf
The magical softness of Rex rabbit fur manages the chill of winter. Our knitted Rex rabbit fur scarf adds luxurious texture to a cape or coat, while providing insulation from wind and chill. Wrap this scarf at the neck, and wear it outdoors or in. Or slide the end through the handy slip hole for a styled look that stays put. Available in choice of SNOWTOP (as pictured) or SOLID BLACK.
---
GH Bass CHUNKY MARLED NECK WARMER
Available in choice of CREAM WHITE or BLACK.
---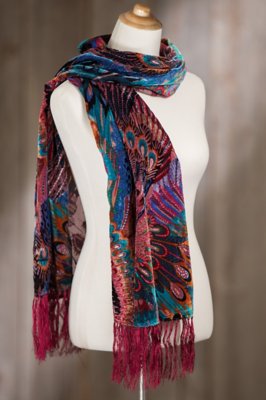 Masquerade Silk Velvet Scarf with Fringe
An exotic peacock feather motif with delicate fringe adds a splash of energy to any shirt, coat, or blazer, indoors or out. It also provides protection on your summer evening walks. Luxurious velvet fabric made of silk and viscose makes this lovely scarf ever so soft, feminine, and lightweight, which makes it easy to carry in your purse or tote so you're never without it. Wear it like a wrap or gather it around your neck for a beautiful accessory.
---
Nine West Marled Yarn Scarf
Exquisitely marled yarn adds cozy style and a rich look to this generously sized scarf with fringe.
---
Select from brand and designer list at left to view all women's scarf styles available.
---